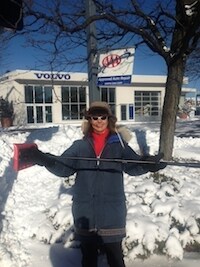 EMERGENCY CAR KITS
When outfitting an emergency car kit there are three things to consider:  the season when you are travelling, the age of car and the length of trip.  As a basic rule of thumb, keep your fuel tank full at all times. Check the condition of wiper blades and make sure your cell phone is fully charged before you leave home and take some extra cash. Do preview weather reports for your route and destination. Pick and choose from the following items based on the above considerations. Many of these items are available in our parts department. Please call and tell us what you need:

Sleeping bag
Thermal blanket
Hat, gloves and extra pair of sock
Warm waterproof boots
Due North snow and ice cleats
Frost Guard windshield cover
Snow broom
Ice scraper
Cyalume snap light industrial grade chemical light stick (12 hour duration)
Flares
Jumper cables
Reflective vest
Water
Snack bars
LED flashlight
Bungee cords
Duct tape
Extra gallon of antifreeze
Coolant
Windshield wiper fluid
Collapsible shovel
Kitty litter for icy conditions
Umbrella
Rain poncho
Handi wipes/Tissues
Tire inflater
Fire extinguisher
Window hammer
First aid kit
Wind up radio
Bath towel
Tool kit
Road atlas
Sunglasses
This one's a Lifesaver--
MOST IMPORTANT:  If you park during a snowstorm and are running the car:  KEEP TAILPIPE FREE AND CLEAR OF SNOW AND ICE.