With the onset of major winter storms, it's time to practice some winter witchcraft in order to make the snow on your car vanish!
Step 1--Go for the Nanook Look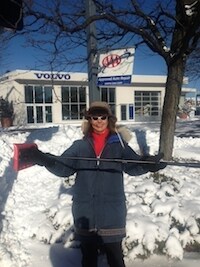 Diane with a Snow Broom
Sporting the proper winter gear makes all the comfort difference in the world.
Snow boots, warm coat, hat and gloves are a must! When you dress for the occasion,
clearing your car of snow and ice can actually be fun.

Step2--Get the Right Tool for the Job
To help you make snow disappear, Paul's just got a supply of snow brooms in stock. They feature extendable handles and soft foam padding on the sides making them ideal for windows, roofs, hoods and trunks. They can be found in our parts department.

To view how Diane recommends you clear a car of snow click on the link to the video below:

Click here !