Your Battery Never Sleeps
Winter weather puts an extra strain on your car's battery. Even when your car is parked, it is working to maintain the electrical systems that keep your car running smoothly. When you car sits for a long period of time without running, it drains the battery. If your battery is dead your car can shut down completely. You can't even unlock your car with the remote!
So check the condition of this non-stop workhorse now.

As a special service here at Paul's for our loyal customers, during this pre-winter season, we will check the condition of your battery for free and let you know if it has enough charge to make it through this winter.

Spending a little time now to service your battery can save you countless hours later.
Don't let your battery go south!--Charge into winter with a battery that is tip top.
You'll be glad you did!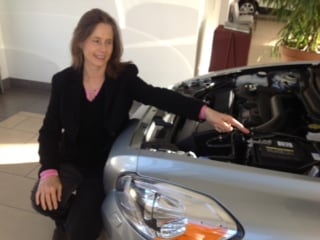 Diane points out the battery
Update:
After showing this to our friend Irv Gordon, he passed along this additional advice:
"A
dead/discharged battery can freeze if cold enough and will not only make a very messy environment under the hood but potentially some very expensive repairs."